Summary of episode 18 (season 3)
Season 1
|
Season 2
|
Season 3
|
Season 4
Season 3:
1
|
2
|
3
|
4
|
5
|
6
|
7
|
8
|
9
|
10
|
11
|
12
|
13
14
|
15
|
16
|
17
|
18
|
19
|
20
|
21
|
22
|
23
|
24
|
25
|
26
Episode 18: Hormuz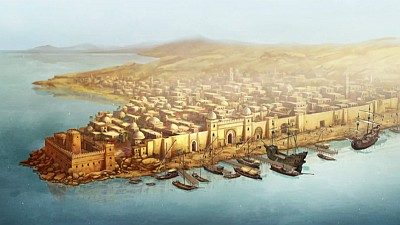 The Indian village is at quiet again. Our three heroes talk with Athanaos about his days with Ambrosius and Doctor Laguerra, and their discovery of the Memorial Temple in Patiala which led them to the first City of Gold. As Athanaos goes back with his son to the alchemist's lab, Tao brings Zia to the temple and deciphers the engravings: "And thus, Rana'Ori, the last princess of Mu, had trusted the naacals the two pieces of fabric that she woved by hand; in the thread of the fabric lies the path that leads to the City of Gold of Kumlar, ". They tell their discovery to Esteban and his father. When he was prisoner, Tao got to read on the piece of wall Ambrosius stole that the naacals put the cloths under the Mountain of the Moon, in the westward land of Akkad. Athanaos advises them to go to Hormuz and meet Waga Fayat, who could tell them about the land of Akkad.
Meanwhile, the three sailors secretly make plans: Pedro and Sancho think about buying their own tavern with the emeralds' money, while Mendoza would like to sail again. But for now, he'll guide the children to Hormuz with his sailing talents. Our friends leave India and fly west with the Condor, as Athanaos stays behind to find a cure to his illness.
Meanwhile Zares, who's already deciphered the engravings, is already at Hormuz and bribes the governor to have our heroes arrested; indeed, the alchemist foresaw that Athanaos would lead them to Waga Fayat.
On that, we find Gaspard who came to Hormuz after his escape from Japan; he meets Laguerra and tries in vain to woo her. Soon after, the children and the sailors land in Hormuz and start seeking Waga Fayat. Mendoza spots Laguerra and follows her. She warns him about Ambrosius's trap, as thanks for Mendoza letting her go in Patiala.
At the same time in the souk, Zia has her medallion stolen by a young boy. The children chase him through town, until they get to a place where they're surrounded.
Documentary: close to Mehrangarh Fort, the blue houses of Jopdhur, heritage of Brahmans, and its lively streets.
Kokapetl's Scoop: safa, long ribbon of fabric to tie a turban.
Characters (in order of appearance): Esteban, Indali, Zia, Gunjan, Kokapetl, Tao, Athanaos, Mendoza, Pedro, Sancho, Raja of Pattala, the Great Condor, Gaspard, Ambrosius, Zares, Nadim.
Script: Éric-Paul Marais
Documentary author: Jean-Luc François
Storyboard: Thibault Descamps
Artistic director: Fernando Lira
Assistant director: Régis Didry
Page updated on 12/11/2019, 7:22 am