Summary of episode 13 (season 3)
Season 1
|
Season 2
|
Season 3
|
Season 4
Season 3:
1
|
2
|
3
|
4
|
5
|
6
|
7
|
8
|
9
|
10
|
11
|
12
|
13
14
|
15
|
16
|
17
|
18
|
19
|
20
|
21
|
22
|
23
|
24
|
25
|
26
Episode 13: Laguerra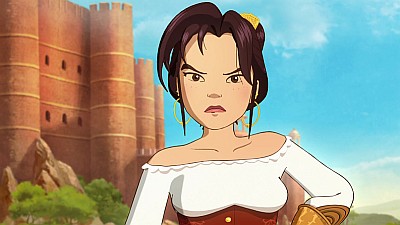 Startled by Ambrosius, Esteban runs away into the fort. To escape guards, he scales the wall onto a high ledge and passes by the window where his father Athanaos is kept. But a member of the Order comes close and Esteban, scared, falls into a water basin below.
Not far, Mendoza and Gunjan who stayed outside the fort, watch the scene. Mendoza intervenes as Esteban is still chased by the Order member, who catches him back and threatens him with their whip. When they remove their hood, it reveals a woman: she introduces herself as Doctor Laguerra's daughter. A swordfight ensues between Mendoza and Laguerra, but the Rajah's guards come in; Mendoza, Esteban and Gunjan flee into the jungle.
In the Memorial Temple, as Tao tries to decipher the wall engravings, a tiger comes in. Pichu manages to distract it and they can run away, but the tiger ends up catching up to them. Yet Zia, thanks to her gift with animals, manages to calm the feline, that walks away. Tao can then peacefully work on the temple's mysteries.
At the fort, Ambrosius understands the children tracked him thanks to the crystal pearl Esteban gave him. Helvetius, back from the Memorial Temple, tells him Zia and Tao have discovered the sanctuary.
Meanwhile, on their way to the village, Esteban tells Mendoza that he's seen his father and that Ambrosius wants to take the children to craft "black suns". Back to the village, the sailor tasks Sancho and Pedro with hiding the Indian children. Yet they're without news of Zia and Tao, so Esteban goes looking for them.
At this moment, Zia, Tao and Indali leave the temple before nightfall, but get surrounded by members of the Order of the Hourglass and Ambrosius's ship comes near, with Ambrosius and Laguerra on board. Luckily, Gunjan and Esteban break in on an elephant's back and manage to save Zia and Indali.
But Tao's taken away by Laguerra onto the ship.
Documentary: the temple of Kandariya Mahadeva in the city of Khajuraho, sanctuary dedicated to the god Shiva and adorned with countless sculptures.
Kokapetl's Scoop: cows, sacred animals in India.
Characters (in order of appearance): Ambrosius, Helvetius, Esteban, Laguerra, Tao, Kokapetl, Zia, Indali, Mendoza, Gunjan, Athanaos, Raja of Patiala, Pedro, Sancho.
Synopsis: Éric-Paul Marais
Script: Éric-Paul Marais and Didier Lejeune
Documentary author: Jean-Luc François
Storyboard: Sandra Derval
Artistic director: Fernando Lira
Assistant director: Régis Didry
Page updated on 01/19/2021, 2:39 pm