Summary of episode 10 (season 3)
Season 1
|
Season 2
|
Season 3
|
Season 4
Season 3:
1
|
2
|
3
|
4
|
5
|
6
|
7
|
8
|
9
|
10
|
11
|
12
|
13
14
|
15
|
16
|
17
|
18
|
19
|
20
|
21
|
22
|
23
|
24
|
25
|
26
Episode 10: Sundagatt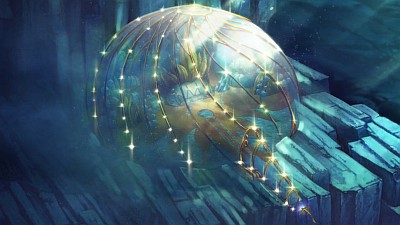 In the City of Gold, our heroes see that, through the crowns, they can mentally control the orichalcum cubes.
Esteban fetches Tao to show him their findings, and tries to comfort him from Ambrosius's betrayal. He's got a plan to trick the alchemist and gets the crystal pearl that attracted the key.
Coming back, Tao and Esteban enter a new room where they find several utsuro-bune, which are used as escape pods; that's how they could have gotten the mirror-shield key, in the utsuro-bune Yoshi protected.
As Sancho and Pedro try to control orichalcum with a crown, they and Mendoza find a throne room with slots for the medallion disks.
Suddenly, the volcano erupts and the City shakes; the water walls start to cede and the City's closing up. They all return to the entrance which starts to fill with water. Zia wants to fetch their medallion disks and Mendoza tells her about the throne room; but the sailor gets injured and Zia goes alone, as the others get to the Thallios. Zia finds the disks, which seem to gather Muan inscriptions, and Esteban meets up with her.
But the City of Gold is submerged; the sailors and Tao end up leaving with the Thallios and rise to the surface. They're met by Esteban and Zia, who escaped in an utsuro-bune. They head to the Golden Condor, by the volcano. Coming there, they see Ambrosius has landed his ship near it. To see his father again, Esteban agrees to give him the crown and the pearl, but Ambrosius still wants more before he can free Athanaos.
As the volcano erupts, the alchemist threatens Mendoza with his blade.
Documentary: the Sakurajima volcano, still active, accessible on foot from the mainland, since the eruption of 1914.
Kokapetl's Scoop: evacuation of Sakurajima in case of volcanic eruption.
Characters (in order of appearance): Sancho, Pedro, Esteban, Zia, Mendoza, Kokapetl, Tao, Gaspard, the Great Condor, Ambrosius.
Script: Éric-Paul Marais
Documentary author: Jean-Luc François
Storyboard: Aymeric Gendre
Artistic director: Fernando Lira
Assistant director: Régis Didry
Page updated on 12/11/2019, 7:22 am