Image gallery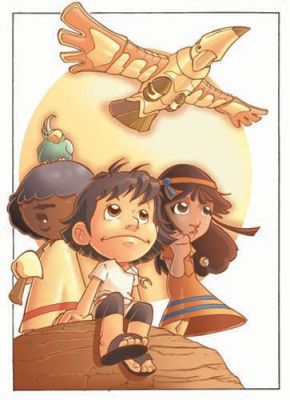 Pictures from season 1 episodes
Episode 01
|
Episode 02
|
Episode 03
|
Episode 04
Episode 05
|
Episode 06
|
Episode 07
|
Episode 08
Episode 09
|
Episode 10
|
Episode 11
|
Episode 12
Episode 13
|
Episode 14
|
Episode 15
|
Episode 16
Episode 17
|
Episode 18
|
Episode 19
|
Episode 20
Original script of the series
This is the first draft scenario imagined by French and Japanese and presented,
during the 80's, to the French television channels to convince them, after Ulysse31,
to broadcast a new Franco-Japanese production. It is very different from the final script!
You will find a text version, transcribed by me, on this page.
DVDs pictures (SONY edition)
DVD 1
-
DVD 2
-
DVD 3
DVD 4
-
DVD 5
-
DVD 6
The book-disk
The stickers book A.G.E.
Bernard Deyriès
The city of gold
The boats
Icons
Other icons:

The Atlantis
Landscapes
Incas buildings
CD's, disks
Esteban and Zia in search
of the 7 Cities of Gold
Page updated on 12/08/2022, 2:53 pm