Summary of episode 14 (season 3)
Season 1
|
Season 2
|
Season 3
|
Season 4
Season 3:
1
|
2
|
3
|
4
|
5
|
6
|
7
|
8
|
9
|
10
|
11
|
12
|
13
14
|
15
|
16
|
17
|
18
|
19
|
20
|
21
|
22
|
23
|
24
|
25
|
26
Episode 14: The Order of The Hourglass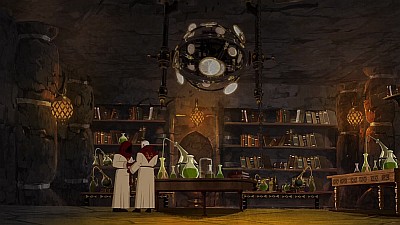 Taken aboard the ship, Tao is soon joined by his faithful friend Pichu; but the bird is also caught, in exchange for Tao's cooperation. Going back to the fort, Ambrosius tries to justify his actions, and albeit furious, Tao agrees to not starve himself.
At the village, the three sailors work on hiding the children up in the trees before the Order of the Hourglass comes to abduct them. Esteban, Zia, Indali and Gunjan come back and tell them about Tao's capture. At nightfall, they make a plan to try to save the children's parents, Tao and Athanaos from the fort; they'll take a river way going under the fort, that Sancho and Pedro discovered in the monkey cave.
At the fort, Ambrosius leads Tao to his underground lab to persuade him to join the Order of the Hourglass. He explains that the Order has been founded by Athanaos, Doctor Laguerra and himself to explore the world, find the Cities of Gold and unearth the secrets of the people of Mu, Tao's ancestors. While he hesitates, Tao gets to read the engravings stolen by Helvetius in the Memorial Temple and hides a screwdriver in his sleeve before being locked up for the night. He frees himself and finds the room where Athanaos is kept. There, Esteban's father tasks him with getting Pichu to send a message to Mendoza.
That night, Esteban, Zia and Gunjan go into the cave and discover the underground river.
But in the jungle, Laguerra and the Rajah's guards come towards the children's village. Emmené à bord de la nef, Tao est bientôt rejoint par son fidèle compagnon Pichu; mais le volatile est aussi capturé, en échange de la coopération de Tao. En rentrant au fort, Ambrosius tente de justifier ses actions et Tao, bien que furieux, accepte de manger.
Au village, les trois marins s'occupent de cacher les enfants dans les arbres avant que l'Ordre du Sablier ne viennent les enlever; Esteban, Zia, Indali et Gujan rentrent à dos d'éléphant et leur apprennent l'enlèvement de Tao. À la nuit tombée, ils échaffaudent un plan pour tenter de libérer du fort les parents des enfants, Tao et Athanaos, en empruntant une rivière passant sous le fort, découverte grâce à Sancho et Pedro dans la grotte aux singes.
Au fort, Ambrosius amène Tao dans son laboratoire souterrain pour le persuader de rejoindre l'Ordre du Sablier. Ambrosius lui explique que leur Ordre a été fondé par Athanaos, le Docteur Laguerra et lui-même pour explorer le monde en quête des Cités d'Or et révéler au monde les secrets du peuple de Mu, les ancêtres de Tao. Bien qu'il semble hésiter, Tao parvient cependant à lire les inscriptions dérobées par Helvétius dans le Temple Mémoire et dissimule un tournevis dans sa manche avant d'être enfermé dans une chambre pour la nuit. Il parvient rapidement à se libérer et trouve la chambre où est enfermé Athanaos. Là, le père d'Esteban lui demande de retrouver Pichu pour faire parvenir un message à Mendoza.
Au même moment, en pleine nuit, Esteban, Zia et Gunjan vont dans la grotte et découvrent la rivière souterraine.
Mais, dans la jungle, Laguerra accompagnée des gardes du Raja, approche du village des enfants.
Documentary: dance, omnipresent in India and kathak, traditional dance in honor of the god Shiva.
Kokapetl's Scoop: Amber Fort in Jaipur, and dance performances in honor of the Maharaja.
Characters (in order of appearance): Laguerra, Tao, Indali, Esteban, Zia, Gunjan, Ambrosius, Kokapetl, Sancho, Mendoza, Pedro, Raja of Patiala, Helvetius, Athanaos.
Script: Éric-Paul Marais
Documentary author: Jean-Luc François
Storyboard: Thibault Descamps
Artistic director: Fernando Lira
Assistant director: Régis Didry
Page updated on 12/11/2019, 7:22 am