Summary of episode 6 (season 2)
Season 1
|
Season 2
|
Season 3
|
Season 4
Season 2:
1
|
2
|
3
|
4
|
5
|
6
|
7
|
8
|
9
|
10
|
11
|
12
|
13
14
|
15
|
16
|
17
|
18
|
19
|
20
|
21
|
22
|
23
|
24
|
25
|
26
Episode 6: All aboard!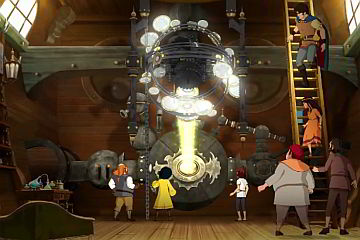 The pirates attack Ambrosius' nave, who activates a curious machine made of lenses to defend himself: the "luminarium", able to accumulate light energy to operate the boiler. The nave then deploys its wings and the balloon, and eventually flies away ! But Pang Zi manages to board without anyone knowing.
When calm has returned, Tao is amazed by all these wonders and Ambrosius lets him know that this technology comes from the Mu empire, the empire whose Tao himself is a descendant and knows the language of.
More interested in eating than hearing about science, Sancho and Pedro clumsily drop a flask containing a powerful soporific and everybody falls asleep, including Pang Zi who just came into the nave. The ship eventually loses altitude but Mendoza wakes up and takes the helm to avoid a terrible accident.
Everybody wakes up and Pang Zi is tied and then disembarked. Zia finds a representation of the sacred Dong Song drum that they found in the cave, and they tell Ambrosius the inscription: "The all-seeing eyes turn inwards, so the yellow dragon's fire paves the way". Surprisingly, Ambrosius possesses a representation of this yellow dragon on an imperial silken handkerchief. It is a statuette kept in a Taoist temple in Beijing.
It's decided: despite Mendoza's suspiciousness, Ambrosius will now accompany them. The Nave and the Great Condor head for Beijing, in the north of China.
Documentary: the inhabitants of the Guilin region and their houses, the Buddhist temples, the green parks, the pagodas ....
Kokapetl's Scoop: the 5-clawed dragons, symbol of the power of the Emperor of China.
Characters (in order of appearance): Pang Zi, Esteban, Tao, Kokapetl, Sancho, Pedro, Zia, Mendoza, Ambrosius, The Great Condor.
Synopsis: Hadrien Soulez Larivière
Scenario: Guillaume Mautalent, Sébastien Oursel
Documentary: Jean-Luc François
Storyboard: Aymeric Gendre
Art director: Fernando Lira
1st assistant director: Régis Didry
Page updated on 01/19/2021, 1:11 pm