Summary of episode 3 (season 2)
Season 1
|
Season 2
|
Season 3
|
Season 4
Season 2:
1
|
2
|
3
|
4
|
5
|
6
|
7
|
8
|
9
|
10
|
11
|
12
|
13
14
|
15
|
16
|
17
|
18
|
19
|
20
|
21
|
22
|
23
|
24
|
25
|
26
Episode 3: The secret of the drum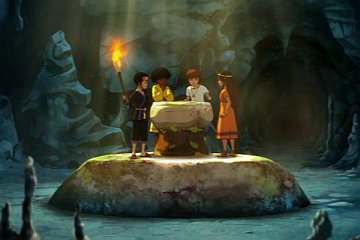 Our 3 heroes are flying above China when Grand Condor becomes out of control and touches down a rocky escarpment. While they research food, a panda steals the medallion of Zia and escapes. Esteban, Tao and Zia follow it to Zhi, the owner of the panda Yang-Yang. He invites them to his village, on the river side Li, where Pang Zi's pirates like to crack down. They like gold and they find Grand Condor. In that way, they capture Sancho & Pedro, originally posted here to protect it.
At the village, Zhi takes Zia –followed by Esteban & Tao – in his secret place: a cave where an ancient drum carved of the medallion image is.
During this time, pirates attack the inhabitants of the village during the Sacred Dragon's Fire ceremony.
In the cave, the drum reveals its secrets thanks to the Tao's encyclopedia: "Drum will resonate only if the chosen ones listen to their heart". The heroes hit the drum listening to their heart and the cave finally reveals a gold dome filled of inscriptions. Also, it spits a thick smoke which makes the pirates run away, they are afraid of the dragon's furor.
Tao describes the pictograms: "Eyes which see everything turn them inside for the dragon's fire to pave the way". The chief of the village learns to them that Esteban's father is come a few years ago but is gone away without have found anything.
Not far away near the river side, pirates block the village.
Documentary: the small mountains of Guilin and the Cave of the flute of reeds in the south of China.
Kokapetl's Scoop: the small mountains nicknamed the teeth of the dragon, a mythical animal in China.
Characters (in order of appearance): The Great Condor, Esteban, Zia, Tao, Mendoza, Sancho, Pedro, Kokapetl, Yang-Yang, Zhi, Pang Zi.
Synopsis: Hadrien Soulez Larivière
Scenario: Guillaume Mautalent, Sébastien Oursel
Documentary: Jean-Luc François
Storyboard: Aymeric Gendre
Art director: Fernando Lira
1st assistant director: Régis Didry
Page updated on 01/19/2021, 1:11 pm