Summary of episode 2 (season 2)
Season 1
|
Season 2
|
Season 3
|
Season 4
Season 2:
1
|
2
|
3
|
4
|
5
|
6
|
7
|
8
|
9
|
10
|
11
|
12
|
13
14
|
15
|
16
|
17
|
18
|
19
|
20
|
21
|
22
|
23
|
24
|
25
|
26
Episode 2: Back to Barcelona (2)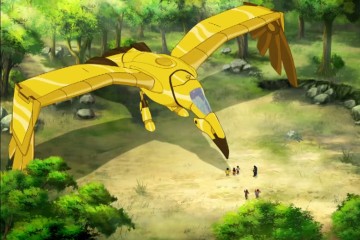 Esteban, who finally came back to town, is researched by everyone. Rico saw Esteban, he returned to the monastery where he was set when he was a child and where he was raised by his adoptive father, Father Rodriguez. In this place, Mendoza, Sancho and Pedro will make a diversion to allow Zia and Tao to find again Esteban.
In his palace, Charles V can't wait face to the opposition always bigger which fights against his army. Meanwhile, Zares assures that all the secrets of the mysterious cities of gold will put the world into the Charles Quintes hands if he can wait a bit.
In the monastery, Esteban, sadly says to Father Marco his deep thoughts. He is terribly sad because of his father's death, the Travelled Prophet. Of course, Father Marco doesn't believe a word about the Cities of Gold and the Child of the Sun, but he proposes to Esteban another adoptive family. Zia and Tao arrive but Esteban completely refuses to follow them and gives his medallion to Tao, heir of the Mû Empire.
Came back to the Rico's tavern, Esteban's medallion abruptly loses his brightness. Due to that, Mendoza, Tao and Zia go to the monastery to convince Esteban that he wasn't chosen due to chance.
Into Esteban's hands, medallion gets back his radiance and he realizes that he has a new family: Zia and Tao.
In the Rico's tavern, our heroes discover that medallions can be used to decode the map which points on the China Empire as the destination for the next city of gold. They go to the Grand Condor, but even with the Spanish soldiers beside them, they escape with a certain facility. Mendoza is surprised. In the tavern, we learn that Rico's son was taken away by Zares and that the scared one is in fact, a soldier of Zares who was commended to execute Rico and his son, but finally, he couldn't.
Zares, with his spy, the scared one and Rico, says to Charles V that he's going to follow the children to China and maybe further.
Documentary: Charles V and his vast empire. Barcelona: churches, monasteries and its cable.
Kokapetl's Scoop: the column in the port of Barcelona, ​​anachronism screenplay.
Characters (in order of appearance): Mendoza, Zia, Tao, Kokapetl, Sancho, Pedro, Charles V, Zares, Rico, spanish soldiers, Father Marco, Esteban, The scared, The Great Condor.
Scenario: Hadrien Soulez Larivière
Documentary: Jean-Luc François
Storyboard: Aymerci Gendre
Art director: Fernando Lira
1st assistant director: Régis Didry
Page updated on 12/11/2019, 7:22 am