Summary of episode 1 (season 2)
Season 1
|
Season 2
|
Season 3
|
Season 4
Season 2:
1
|
2
|
3
|
4
|
5
|
6
|
7
|
8
|
9
|
10
|
11
|
12
|
13
14
|
15
|
16
|
17
|
18
|
19
|
20
|
21
|
22
|
23
|
24
|
25
|
26
Episode 1: Back to Barcelona (1)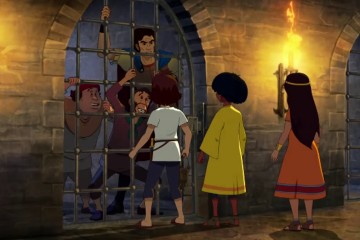 Barcelona, 1533, overnight . . .
Our 3 heroes' adventure takes back a few weeks after the destruction of the first city of gold. In the Andes jungle, Myuca, the old Inca people, is escorted by some conquistadors and a strange person, dressed of an imposing red tunic with which it's impossible to see his face: Zares.
The last one obliges Myuca to conduct him in an underground passage with a view to learn much more about the cities of gold. "From all over the world, men will look for 7 mysterious cities of gold, containing the 7 biggest Mû secrets. Sun will pave the way". Myuca said to Zares that 3 children have already found the first city of gold, which was destructed, and that these children have took the map hidden in the temple. To punish him, Myuca was walled off, alive.
Barcelona, 6 months later, sailors always stand in the Rico's bar. Esteban, Zia and Tao come back to rescue discreetly Mendoza, Sancho and Pedro, locked up by Zares when he came back from the New World. Finally, they manage to escape, passing across Spanish soldiers' bullets, and help a mysterious prisoner: the scared one. Their escaping was made easier by Zares who doesn't want to hurt the 3 children.
They go out the city by an underground passage in the Rico's Bar. They spend the night in a cave not so far. Children want to see Mendoza because he was important to decode the map in the underground temple of the feathered snake. During the night, Mendoza reveals to Esteban that the Travelled Prophet, who disappeared with the destruction of the first city of gold, was his father.
In the first lights, Kokapetl awake almost everybody, because they discover that Esteban disappeared.
Documentary: Barcelone, the history of the city, the Montjuic fortress, the prison.
Kokapetl's Scoop: the tavern of Rico in the Barrio Gótico.
Characters (in order of appearance): Mendoza, spanish soldiers, Myuca, Zares, Rico, Esteban, Zia, Tao, Kokapetl, Sancho, Pedro, The scared, The High Priest.
Scenario: Hadrien Soulez Larivière
Documentary: Jean-Luc François
Storyboard: Aymerci Gendre
Art director: Fernando Lira
1st assistant director: Régis Didry
Page updated on 12/11/2019, 7:22 am