Summary of episode 4 (season 2)
Season 1
|
Season 2
|
Season 3
|
Season 4
Season 2:
1
|
2
|
3
|
4
|
5
|
6
|
7
|
8
|
9
|
10
|
11
|
12
|
13
14
|
15
|
16
|
17
|
18
|
19
|
20
|
21
|
22
|
23
|
24
|
25
|
26
Episode 4: In the hands of the pirates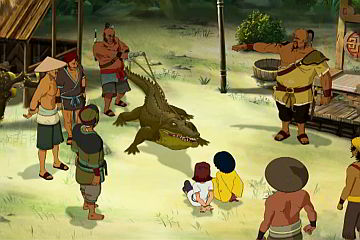 With the help of a catapult, our friends are able to fly above pirates' ships which block the village but Esteban and Tao subside on one of the ship and pirates capture them. They are brought away to the pirate's camp, pirates ask some questions to them about the Condor. Zia, Sancho, Pedro and Mendoza discreetly follow them and the last one proposes to Zia if she wants to pilot the Grand Condor during the diversion of Sancho & Pedro.
During this time, Tao and Esteban manage to escape of their cage and run away under crocodile's skin but quickly they're discovered and once again bound. Mendoza and the others try all they can to distract pirates in a way to permit to Zia, with the help of Zhi and Yang-Yang, to climb into the Grand Condor, joined by Mendoza, Sancho & Pedro, a few time later. She proposes to Zhi if he wants to come with them but he refuses with many regrets because he is designated to be the next chief of his village. Finally, after some difficulties, Zia takes off the Grand Condor and pilots it.
Time is pressed because inside the pirate's camp, Glou-Tang, the terrible crocodile is going to eat Esteban and Tao.
Documentary: fishermen's vilages, along the Li River and the bamboo culture.
Kokapetl's Scoop: junks, thousand years pirates' boats whose sails look like bats' wings.
Characters (in order of appearance): Sancho, Pedro, Esteban, Zia, Tao, Mendoza, Kokapetl, Zhi, Pang Zi, Yang-Yang.
Synopsis: Hadrien Soulez Larivière
Scenario: Guillaume Mautalent, Sébastien Oursel
Documentary: Jean-Luc François
Storyboard: Alexis Madrid
Art director: Fernando Lira
1st assistant director: Régis Didry
Page updated on 01/19/2021, 1:11 pm