Summary of episode 23 (season 1)
Season 1
|
Season 2
|
Season 3
|
Season 4
Season 1:
1
|
2
|
3
|
4
|
5
|
6
|
7
|
8
|
9
|
10
|
11
|
12
|
13
14
|
15
|
16
|
17
|
18
|
19
|
20
|
21
|
22
|
23
|
24
|
25
|
26
27
|
28
|
29
|
30
|
31
|
32
|
33
|
34
|
35
|
36
|
37
|
38
|
39
Episode 23: The Jade Mask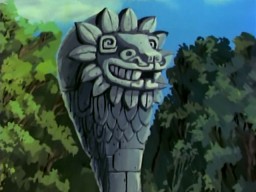 On board the Great Condor, the three sailors express their joy at the sight of the sparkling sea. But they do not forget their quest, however: to find the Cities of Gold. The children prefer to marvel at the sight of a rainbow. Their concerns are so different ...
Suddenly, the mechanisms of the Great Condor are blocked. The bird then embarks a perilous descent to the jungle and lands in disaster at the bottom of a deep hole. Despite the cowardice of Sancho and Pedro, the troupe decides to get out of the Condor and explore a gallery uncovered by the beak of the bird. This underground gallery is actually a long staircase, whose exit is sealed by a heavy slab. With the help of his sword, Mendoza manages to release the block of stone violently. All rush out and meet, amazed, at the top of a temple overlooking a beautiful Mayan city in ruins. Everyone is of the opinion to explore the city. For Sancho, Pedro and Mendoza, it can only contain gold, which infuriates the children.
For their part, Esteban, Zia and Tao prefer to try to understand the history of the city. Suddenly, Kukapetl discovers a stone statue representing a feathered serpent. Intrigued, Tao manages to decipher the inscription and understands that this statue is actually a deity. But the boy seems to have deciphered something else and quickly sows Esteban and Zia.
While Sancho and Pedro languish not to have found some gold, Esteban and Zia, soon joined by the three Spaniards, find Tao in an underground room with walls covered with paintings and ideograms. Everyone questions their meaning, but Tao seems to be the only one who can understand them. According to him, they evoke the story of a powerful man nicknamed the "Winged Serpent". This man had built a furnace located in the City of Gold ... Sancho and Pedro are not interested: they noticed the presence of a mask of green jade. While trying to seize it, the two acolytes clumsily trigger a security system: the eyes of the jade mask then become luminous and the walls of the room begin to move in blocks, destroying the inscriptions.
All try not to be overthrown, when a passage appears. Only possible way out, our friends borrow it and see the light of day at the end of a new underground gallery, similar to the first one. The sun sets on the Mayan city and Esteban and his companions realize to have gone round in the underground of a city deserted of its inhabitants. However, in these ruins, the heart of the Cities of Gold seems to beat certainly stronger ...
Page updated on 11/04/2019, 11:43 am