Future Boy Conan from Hayao Miyazaki
[ Presentation ] [ Script ] [ Bernard Deyriès and Jean Chalopin ]

[ Staff ] [ Dubbing ] [ Haïm Saban, Shuki Lévy and Noam Kaniel ]

[ Scott O'Dell: The King's fifth ] [ Celluloids ] [ Conan ]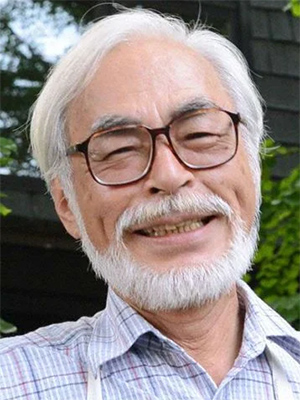 Why this page?
For two reasons ! The first is that a number of you told me about this series and highlighted its quality, comparable to the Mysterious Cities of Gold series. As you will see below, many similarities exist between these two animes, hence the justification of this page. The second reason is due to its famous director, Hayao Miyazaki! For the latecomers, this man, now director of the animation studio Ghibli, created some masterpieces like My Neighbor Totoro, Princess Mononoke or more recently Laputa: Castle in the Sky and Spirited Away.
Presentation
Mirai Shonen Conan - Future Boy Conan, is a Japanese anime from 1979. It was dubbed in French and broadcasted on FR3 in 1987. The series consists of 26 episodes of 20 minutes. The scenario is very detailed and the soundtrack has nothing to envy to the Mysterious Cities of Gold soundtrack!
The story takes place in 2028. The Earth, devastated by a third world war, is nothing more than an immense ocean. Only a few survivors live on scattered islands. In particular, on one of them live young Conan and his great father. One day, a girl, Lana, comes aground on their island. She will be at the center of the plot because she is the daughter of Dr. Lao, able to control solar energy, essential to the operation of the Industria city. She will be kidnapped by Industria leaders, who want to find her father in order to dominate the planet. Conan sets out to find her and he will meet, on the way, Jimsy who will become his friend. He is a hermit who also fights against Industria.
Comparison of the series
Here is a list of analogies between the Cities of Gold and Conan. I do not know enough Conan so this list is far from exhaustive: if you notice errors or if you see other points in common, please email me.
- Conan / Esteban: they must fight against a powerful enemy: Industria or the Olmecs.
- Lana / Zia: their fathers are important characters: Lana's father is in a way the equivalent of Papa Camayo.
- Jimsy / Tao: These are two hermits who will help their companions to fight against the enemies.
- Flying machines.
- Solar energy plays a central role in the story.
- Lepka / Menator: respectively head of Industria and Olmecs.
- Dyce / Mendoza: Captains of Barracuda and Esperanza.

- The Barracuda / Esperanza: two ships.
- War: Conan is 20 years after the war; the Cities of Gold speak of an ancient war.
- Conan's grandfather, who raised him, dies. Father Rodriguez also dies at the beginning of the series. This causes Conan / Esteban to leave for an initiatory journey.
- Scenarios are very neat and very rich music (more than 30 pieces for each series).
- One of Conan's animators is Yoshiaki Kawajiri. He also proposed his drawings for the Mysterious Cities of Gold series but he was not selected. Another member of Conan team, Toshiyasu Okada is also the character designer of the Mysterious Cities of Gold series. You will find below their sketches. The traits of the characters are obviously very close to those of Conan.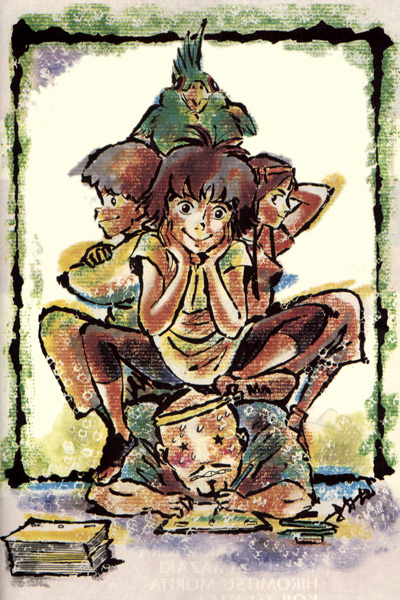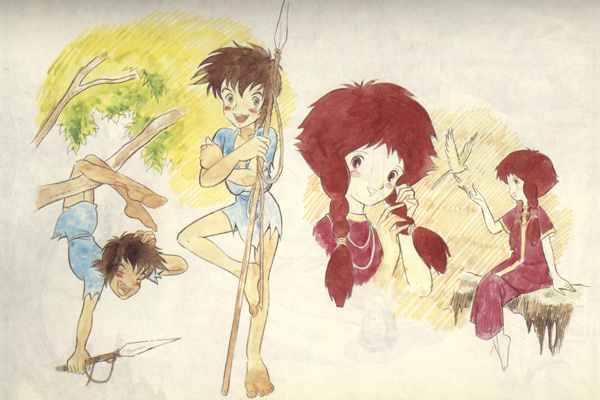 Links
HighHarbor.net
The most complete site on this series
where most of the information from this page come from.
French website about Ghibli and Miyazaki
[ Next ]
[ Presentation ] [ Script ] [ Bernard Deyriès and Jean Chalopin ]

[ Staff ] [ Dubbing ] [ Haïm Saban, Shuki Lévy and Noam Kaniel ]

[ Scott O'Dell: The King's fifth ] [ Celluloids ] [ Conan ]
Page updated on 11/19/2022, 1:51 pm