On these pages you will find the latest news about your favorite anime: the orignal series
MCoG 1
, the long-awaited
official sequels
to the series:
season 2
(2013),
season 3
(2016), the cancelled
film
, and the french
manga
from the first series and its sequels. But also the
video games
and the
unofficial and abandoned sequel
The New Adventures of Esteban and Zia:
NAEZ
.
If you have news that should be published on theses pages,
email me
! Thank you.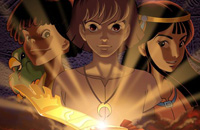 [ MCoG 1 ] [ MCoG 2 ] [ MCoG 3 ] [ The manga ] [ The film ] [ Video games ] [ NAEZ ]